Resident Half Fast Machinist
We use a lot of different types of collets in our shop. We have racks for the R8 collets that fit our manual vertical mill and the 5C collets we use on a lot of different machines and fixtures. The one thing we don't have is an organized storage system for the ER type collets we use in our CNC mill toolholders. We use three sizes of ER holders - ER16, ER32, and ER40. We have collets in each size for inch based tools, metric sized tools, and taps.
We had 5" Brazilian Cherry flooring put in our house over a period of years. I saved what was left from the bundles and also a lot of the scrap. I've used it to make utility box covers for all the switches and outlets in the house and other similar projects. I decided to use it to make some ER sized collet racks. I needed to laminate two or three pieces together to get a thick enough slab. The flooring had grooves on the bottom, I wanted it flat for a good glue bond so I used a 4 flute 1-1/2" diameter HSS end mill in our vertical milling machine to cut about 0.1" off.
The ER16 collets required a 5/8" hole so I used a spade drill. I set the depth stop on the quill for the right depth so I didn't need to drill all the way through and glue a bottom board on like I had to do for the larger sizes. I used holes saws to make the racks for them. I glued a third board to the bottom of those and then milled it off until the bottom was 1/4" - 5/16" thick.
After the glue was dry on everything I finished the ends and sides with the end mill and then put a bevel around the top edge with a 1/2" drillmill. A drillmill has a 90* point and can be used for spotting, drilling, milling and beveling. I figured the bevel would prevent chipping or splintering during use. To finish the project I got some spray urethane and applied it after a light sanding.
Tomorrow we will go through our collet collection and start using these.
ER16, ER32, and ER40 collets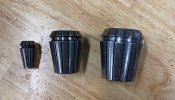 Using a 5/8" spade drill to drill the ER16 rack.

Using a hole saw to make the holes for the ER40 collets.

The four racks for the larger size collets getting a bottom board glued in place,

Milling off the bottom board to reduce the height and weight.

The racks after a coat of spray on urethane.