I am going to stick my neck WAY out there and attempt TWO things:
1) To ask a loaded question, which will likely yield a lot of advice to buy Smith or Ruger - which is APPLES, and I'm looking at ORANGES;
2) I will TRY to elucidate efficiently and without making one of my typically long posts.
OK, I see I've already failed miserably on objective #2 - if you want to
skip the background, scroll down to the actual question
, understand that I HAVE (and have had) many Rugers and several Smiths and that's not what I'm looking for.
Background first:
I have nothing against Ruger or Smith and own or have owned both. I'm partial to Charter Arms revolvers though, because I am fond of the design features, low mass, small form and almost every one of them has been acceptably accurate, like 2" to 2.5" at 25 yards-accurate - in spite of the short (3") barrels I prefer. My last one, while it IS accurate, was a royal PITA to get going and I detest the "adjustable" rear sight on the thing. I HAD an SP101, 3", which was marvelous, but still prefer the lighter 3" Charters - mostly older ones. I HAVE put an average of 50 to 100 through a few of the 44 Specials over the course of many years. I've ot personally experienced the "meant to be carried a lot and shot a little" phenomenon many are quick to offer up, and personally question just how much experience supports that idea. Has definitely not been MY experience.
Taurus, in the late eighties and early nineties made some darned fine revolvers and I had several in 44 Special. While I never liked the "feel" of their triggers, they were as accurate as my Charters. Two Rossi 720s I had were amazing (but heavy) regarding triggers and accuracy, but the Taurus revolvers I had were excellent guns. NO, not Smiths, but that's not what I'm after here.
I'm looking at FEATURES, which I find lacking in my favored Charters, Rugers or Smiths. Rugers and Smiths are off the table, especially with the overall economy and my personal economy.
TAURUS
has a couple revolvers right now that are just too tempting; the
856
, 3", 6-shot 38 Special and the
605
"Defender," 5-shot 357 Mag. Fixed sights (Tritium front sight, to boot), with a replaceable front sight, smooth, clean, decent grip selection (which has always been poor for the Charters) longer ejector rod on the 357, nice hammer spur checkering, NO LOCK on the hammer,...
The dilemma is that I recently off-loaded a Taurus 2" M85 UL of fairly recent manufacture, as I was thoroughly unimpressed with it. The lock-up, with the trigger back was sloppy and the chamber throats did not align well with the bore. Accuracy was (yeah, I know, it was a "gitoffme-gun") not great. I've had several 2" and 3" Charter 38s which would shoot 2.5" groups at 25 yards.
Almost no reviews I've read on ANY gun lately even bother to quantify accuracy - it's all "it's accurate" (they shot at three to seven yards) and yap on about how many rounds of what they put through it, how much it hurts to shoots it, how it "feels," etc. Typical of what seems to be the prevailing attitude... The most common problem I've read about regaridng Taurus revolvers centers on cylinders binding, but I've yet to read an anecdote posted by anyone who has any clue as to how a revolver works, so I can't put my finger on what this problem might be.
MY QUESTION IS
...
(guess I blew the short post attempt) Does anyone here have any experience with the accuracy of Taurus' current revolvers in 38 or 357? I'm specifically looking at the 3" 605 "defender" or 856 in 357 or 38, respectively.
THANKS
for any input. I value your opinions over all others.
The 605: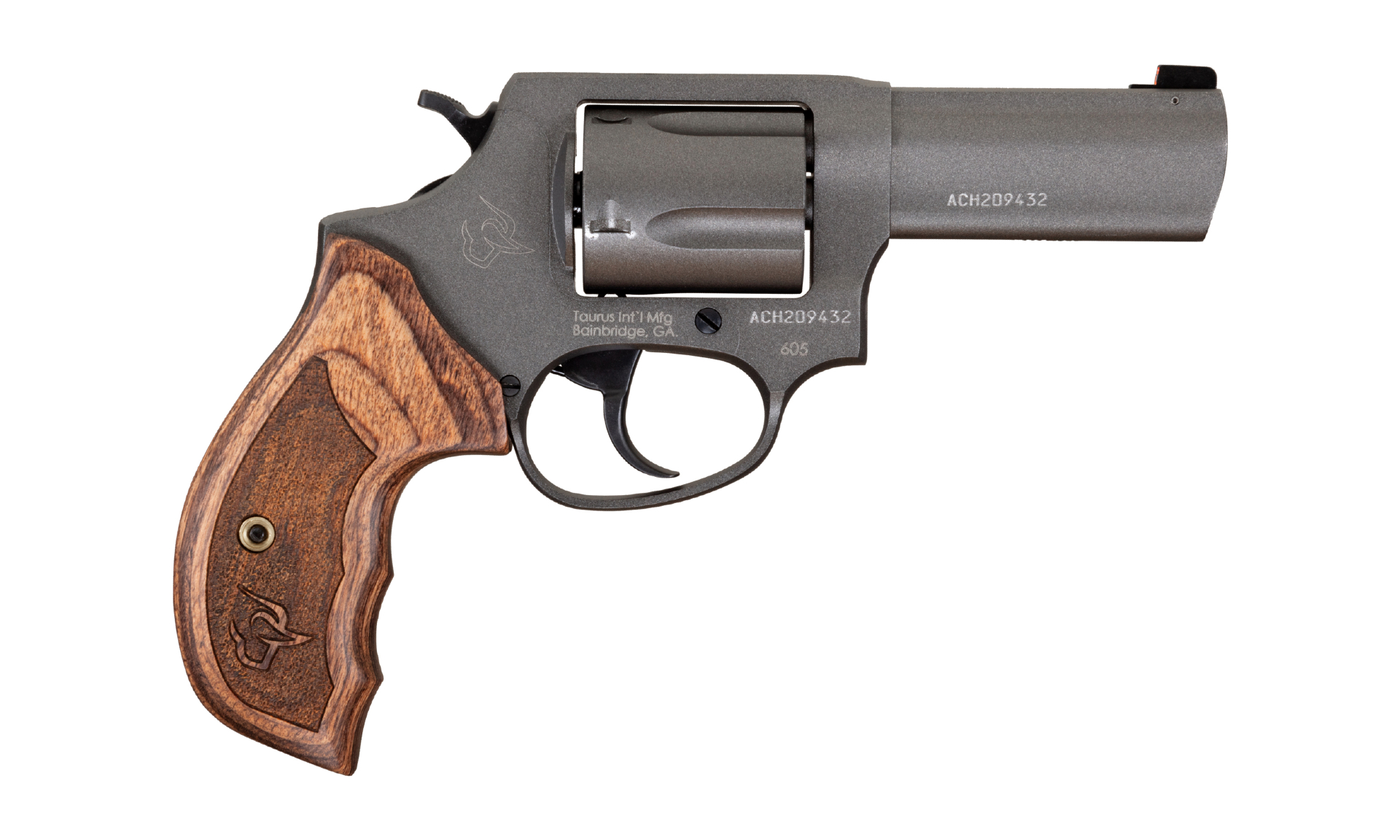 Taurus updates its Defender series of revolvers with the 605, purpose-built as a concealed-carry revolver.
www.shootingillustrated.com
The 856:
Taurus this month expanded its .38 caliber 856 revolver line by introducing six new models, all standard with a 3-inch barrel.

www.guns.com
Last edited: