The weather, after an unseasonably warm spell while I was out of the state, has turned rainy, wet, and cool.
The bottom is supposed to drop out of the thermometer tonight and tomorrow with worse to come on Monday.
The day started with rain. Then it eased up but was quite dreary (almost ideal for shooting, however). The temps were a mild 53 degrees (not bad for January 9th, huh?) after lows of 20 or so. I decided to grab my gear and head for the range as this opportunity may not return for a couple of months.
I took my TC Contender with custom JD Jones barrel (a .312" barrel) along with my S&W 16-4 with 6" barrel. I had loaded up fifty test loads with the new NOE/RCBS 103 Gr. SWC using new Starline .32 H&R Magnum cases, Wolf small pistol primers, and 3.5 grs. of HP-38 (courtesy of a powder swap with my very good friend, the Green Frog). These were sized to .314". I have not chronographed this load but the loading manuals suggest it should be somewhere around 900 fps. This should be a good "middle of the road" loading for both the range and edible small game.
I was not having a particularly good "seeing day". At my age, with implants in both eyes, I have good days and "not so good" days with my vision. The two power Leupold scope on the Contender was working well for me but the only targets I had were pistol targets with black bullseye. When shooting groups, I have had better luck with benchrest targets with the black square. I can target the intersection of the corner and get precision aiming. At any rate, I worked with what I had and shot several targets (five shots at 25 yards off a rest) with 3/4" groups. I'll try to better that with a better target the next time. At any rate, my new NOE bullet mold is working and working well.
My 16-4 S&W has a Red Dot sight. I could not focus properly on the dot (it was oblong). It was a vision problem, not a Red Dot fault. My groups were not to my liking. Then, I had an idea. I pulled out my adjustable aperture from my shooting kit, and put it on my glasses. Voila! The dot was now in focus and I could properly center the dot on the black bullseye. I shot several targets of five shots at 25 yards (off the rest) that measured an inch. Again, the NOE bullet has proven itself.
I had a few Hornady hollow base wadcutters loaded and shot them with a singular lack of success. The groups were twice the size of my cast SWC groups. I had to smile a bit, knowing that my home cast bullets "won the day"
.
My Mihec 100 gr. full wadcutter mold has shipped and I should have it within a week or so. I have no doubt that it'll shoot as well as the SWC.
Pictures to follow.
Here's the pictures (the top two are with the T/C, the bottom two with the 16-4);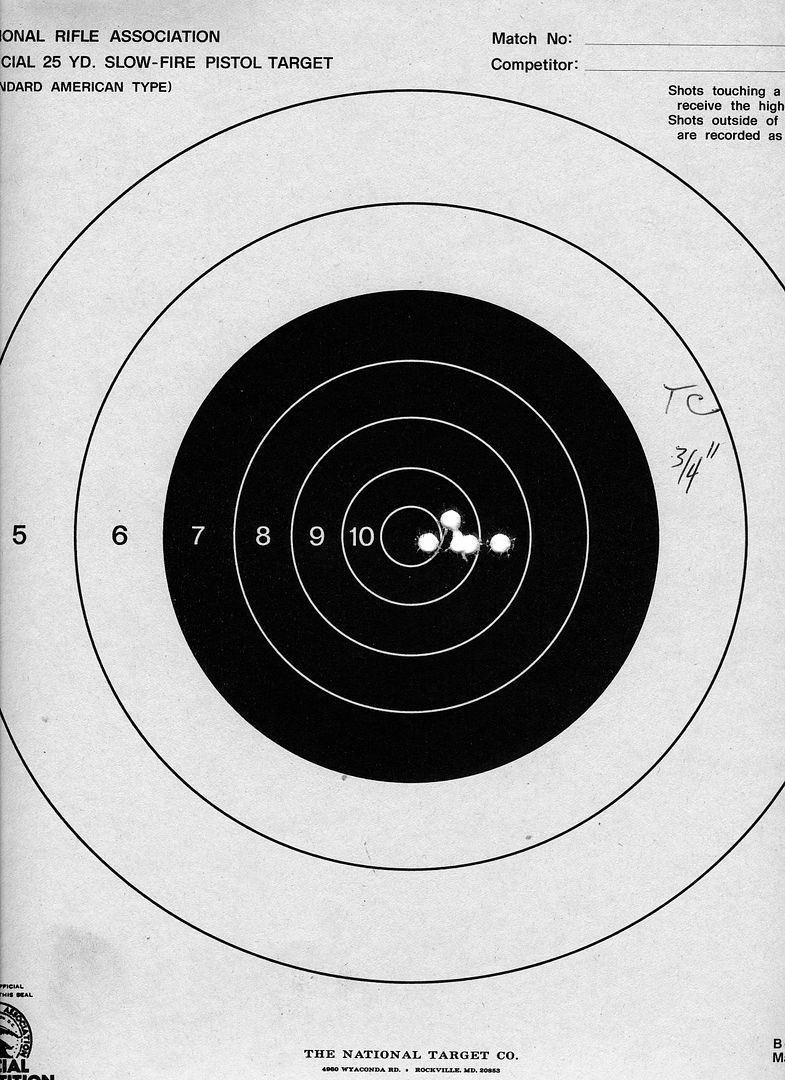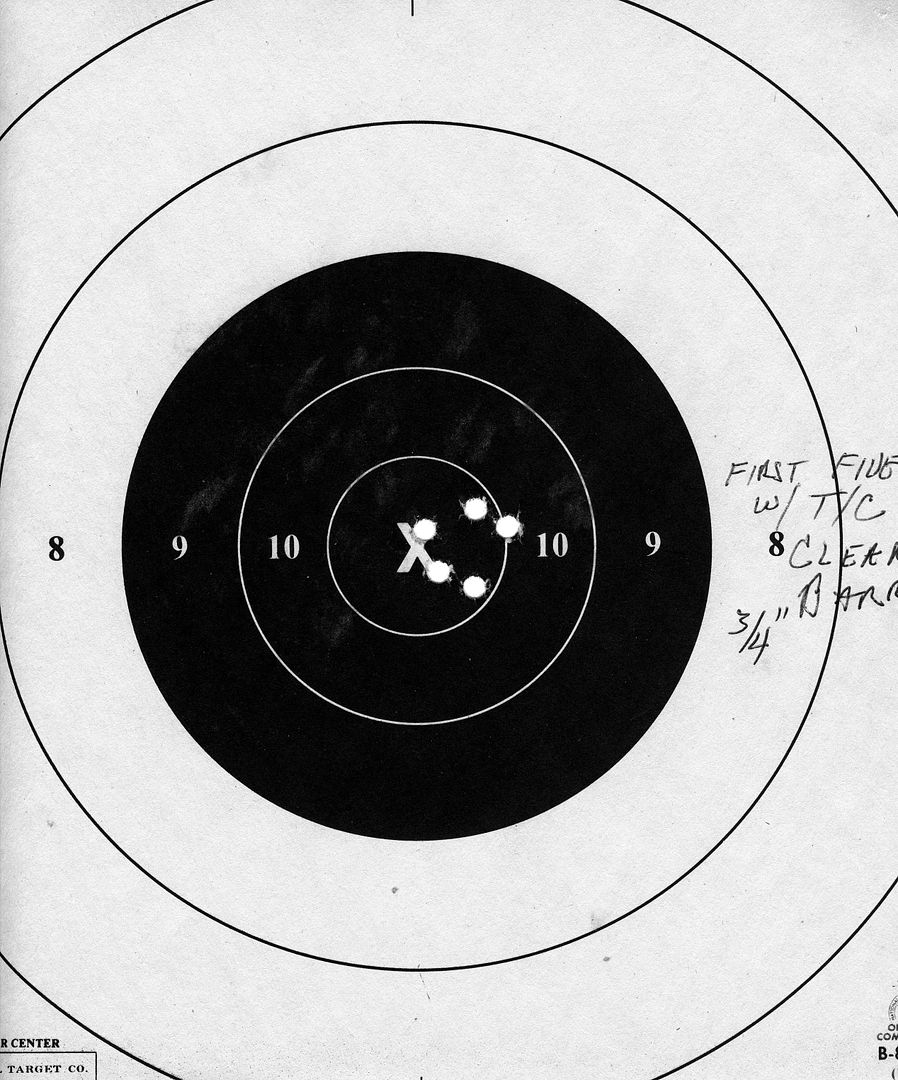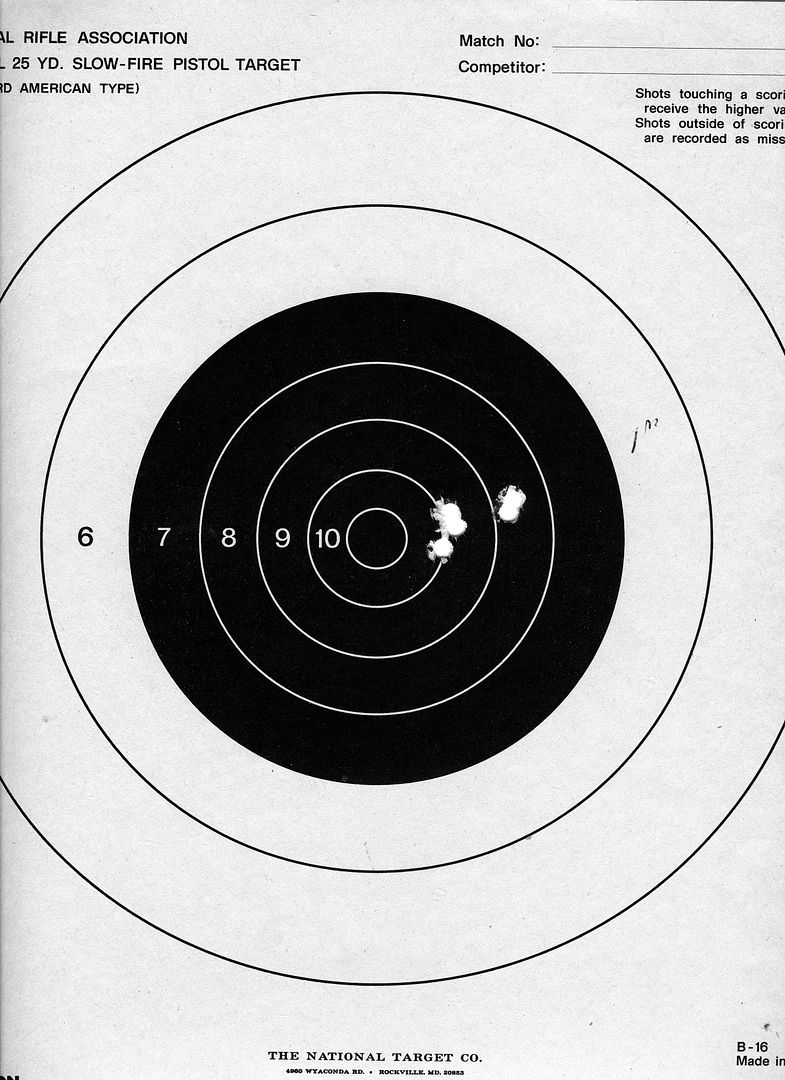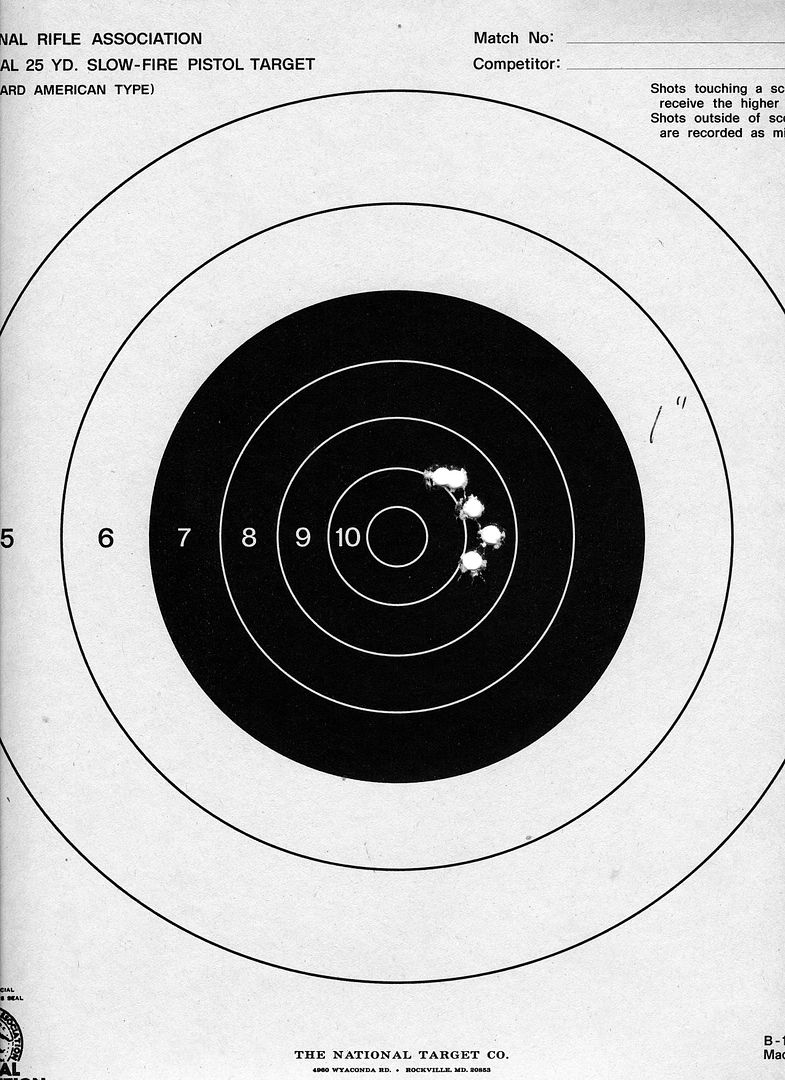 Stay tuned.
Dale53
Last edited: